Here at ADJ Style, we want to inspire you to define your individual style by creating a home and a style that you love.
---
ADJ Style – Your Online Home Decor Inspiration
Here at ADJ Style, our experts are available to you online, providing advice and insight on everything from home decor inspiration, interior design resources, and related local community events. Plus, we'll keep you up-to-date on the latest and greatest things going on in our three Adjectives Marketplaces, the Unhinged Workshop!
This is your go-to local resource for any kind of inspiration to create a home and a style that's all your own.
We want to bring you the best value by encouraging you to let us know what inspires you most. What do you want us to write about? As we share our stories and expert advice, stay in touch with us and let us know what you think.
---
Fall in love with the spaces you create. Here's how:
Interior Design Inspiration
We'll be ranting and raving about all things home decor in today's most popular and unique styles. That means all types of styles, all kinds of designs. Rustic to shabby chic, vintage to brand new. Do-it-yourself to top-of-the-line luxury. Perfectly restored antiques to one-of-a-kind custom made farm tables.
---
Our Local Community
Our customers and our local community are most important to us. You are the reason Adjectives exists. We are passionate about discovering, designing and connecting local history to you and your lifestyle today.
We're building the ADJ Style blog as a resource to inspire you to explore all the wonderful places within our local area. This is about collaborating with creative local artists and shopping at local businesses to help develop an authentically connected community all over the Central Florida area.
---
Old Cool Stuff
Let's face it, we're obsessed with old cool stuff. Why? Because old stuff has a lifetime of stories that want to come out. They want to be discovered. We love history and we love bringing things back to life even better than they were before. Knowing that each time we recycle, restore, repurpose something, we're letting a little a piece of history live on. We're gonna tell you all about the old cool stuff we find, the stories we discover and what we do to bring it back to life.
---
Adjectives Artisans
We'll keep you up to date about our incredible artists, designers and craftsmen. Here on the ADJ Style blog, you'll see highlights of their latest and greatest works of art. As we focus on their talents and techniques, you'll get a behind the scenes look at different creative processes. Our artisans do what they do out of pure love and passion for their craft. Our hope is that by sharing their stories, some of their magic fairy dust might rub off on you!
---
Do-It-Yourself
As we focus on all that old cool stuff, we can show you some of the simple techniques that are used to bring pieces back to life. We're experts in painting furniture, designing rooms, developing color schemes, organizing small spaces and so much more. With our Do-It-Yourself category, get ready for some of the best tips and tricks to help you create a happy home all by yourself!
---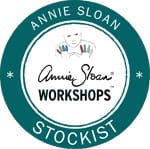 Speaking of Do-It-Yourself… This lady is the queen of DIY. Annie Sloan is a world renown color and paint expert and we are proud to be her partner. As an exclusive Central Florida Annie Sloan Stockist, Adjectives sells the infamous Chalk Paint® and all her other amazing DIY supplies for painting and designing a home that is absolutely iconic for you.
We also teach monthly Chalk Paint® workshops. Adjectives is an authorized Stockist. We are trained in the Annie Sloan Methodology. A sure fire way to kick start your DIY projects. Learn how to paint furniture and more from our color and paint experts. Check out monthly Annie Sloan Chalk Paint® Workshop schedule here.
---
Unique & Creative Gift Ideas
Isn't that the point of gift giving anyway? To be unique and thoughtful. We give gifts because it makes us feel great to see people happy, especially the people we care about most. What better way to make people happy them by giving them one-of-a-kind gifts that they will remember forever. At Adjectives, we explore the gift giving world in a whole new way. Our are gifts are meaningful and handcrafted with love. They are so completely unique that you'll never find them anywhere else in the world.
---
Wall Art & Mirrors
Something often seen as an afterthought, the art that goes on our home's walls is most likely the one element that will enhance a room design the most. We're gonna inspire you to see wall art as an iconic, key element when defining the style of a room. By creating harmony with the furniture and home decor in your space, the wall art you choose may very well become the driving factor of your individual unique style.
---
Can you say, Endless Possibilities…
Are you as excited as we are to dive into these topics? There are endless possibilities for us to inspire the creative artist in you! Click on a story and start getting inspired right away. Learn about the ADJ Style mission and what core values inspire us most at Adjectives. Remember it'sall about creative freedom. We want to inspire you to create a home and a style that you fall in love with. That's only possible by being totally you!