Looking for something fun to do with a friend or partner? Get together with someone you love and create something beautiful together! Spend your date night at Adjectives for our Bring Your Own Piece – Date Night Edition.
Join us for this fun furniture painting workshop on how to use world-renowned Chalk Paint® by Annie Sloan! You and your companion will learn how to transform a drab piece of furniture into a fabulous new find. Let us help you re-imagine, refresh, and restyle your space. Bring in your own small piece of furniture (or a cabinet door!) to paint in class and use all of our materials, supplies, and expertise as we guide you through the process. Transform your furniture into something you both can enjoy together!
This class is all about discovering the great fun of doing a creative project together with someone else. The class fee covers two attendees, and we supply snacks, wine, and cheese so everyone will have a great time!
In this class you will learn how to:
Properly prepare your piece for a lasting, beautiful finish
Select color combinations and paint your piece using Chalk Paint®
Dry or wet distress your piece
Properly finish your piece with Chalk Paint® Wax or Lacquer
If you're ready to have a fun-filled, creative date night with your sweetie, reserve your spot now!
Duration: Three to four hours
Location: Adjectives Altamonte and Adjectives Winter Garden (Dates below)
Materials: Just yourself and a small piece of furniture. We'll supply everything you need including snacks and beverages too!
Workshop Fee: $200 for two people, including all materials (even paint and wax!)
---
---
Class sizes are limited and payment is needed to reserve your spot. We take all major credit cards and PayPal via our secure website, or you can call in your credit card number over the phone if you prefer.
Planning a friends night out, team outing, or party? Do you have 6 or more people? Send us quick message with the details. We can plan a special Chalk Paint® workshop party just for you and your group!

Furniture Painting Guidelines:
To ensure that you can finish during the workshop, furniture size should not be larger than 36" tall or 36" wide (preferably wood). Small wooden chairs, end tables or nightstands are perfect. If you do not have an appropriate piece of furniture, please let us know ahead of time and we will try to find a small and inexpensive piece of furniture for you.
You must be able to carry your piece in and take it home with you at the end
Please wear comfortable "painting" clothes
The wonderful part of this furniture painting workshop is that you will leave with a small piece of furniture completely transformed by YOU, in a Chalk Paint® color and finish YOU have chosen! We supply all materials for you. All you need to bring to this furniture painting workhsop is yourself, dressed to paint, and your piece of furniture!
What is Chalk Paint®?
Chalk Paint® is a true artist's medium and goes on any surface, including wood, concrete, and melamine, making it the perfect choice for ANY project – no sanding, no priming, and the flexibility to achieve a virtually unlimited number of decorative effects. In addition, it has no odor and is completely safe to use indoors. This Chalk Paint® workshop is for beginners as well as experienced painters.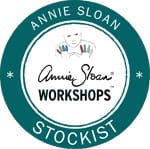 As an exclusive seller for Chalk Paint®® by Annie Sloan in the Central Florida area, we pride ourselves on sharing these common threads of the inspiration, innovation and individualism with Annie Sloan and with you, our community.
Now you have no excuse but to learn Annie's inspiring techniques for painting furniture, fabric and much more! Receive up-to-date practical advice about painting furniture and using color from our authorized stockists. And let your imagination run wild in our local world of Annie Sloan.