Our CHALK PAINT® Expert Painting Workshop is the perfect class for learning all about Annie Sloan's signature creation, Chalk Paint® – the world-renowned furniture paint that started a revolution! With our tips, hints, and secrets, you won't believe what you can do. Even if you've dabbled with Chalk Paint® in the past, in this Chalk Paint® workshop we'll teach you much more about using this incredible paint. You'll walk away with the knowledge and confidence you need to make any Chalk Paint® project a success!
What can you expect to learn?
In this course, you'll learn how to use Chalk Paint® by Annie Sloan to give your furniture and decor items new life.
First, we give you a deep understanding of how Chalk Paint® interacts with your surface, and what you need to consider when starting your project.
Then, we teach you several hands-on techniques to help you achieve exactly the look you want, whether it's rustic farmhouse, fabulous French antique, or modern.
We'll also cover the best techniques for using Chalk Paint® Wax, the easy and traditional sealer and finish for Chalk Paint®

What is Chalk Paint®?
Chalk Paint® is a true artist's medium and goes on any surface, including wood, concrete, and melamine, making it the perfect choice for ANY project – no sanding, no priming, and the flexibility to achieve a virtually unlimited number of decorative effects. In addition, it has no odor and is completely safe to use indoors. This Chalk Paint® workshop is for beginners as well as experienced painters.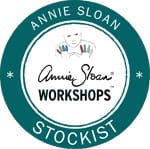 Let us help you re-imagine, refresh, and restyle your space. As an exclusive seller for Chalk Paint®® by Annie Sloan in the Central Florida area, we pride ourselves on sharing these common threads of the inspiration, innovation, and individualism with Annie Sloan and with you, our community.
Now you have no excuse but to learn Annie's inspiring techniques for painting furniture, fabric and much more! Receive up-to-date practical advice about painting furniture and using color from our authorized stockists. And let your imagination run wild in our local world of Annie Sloan.
---
If you're ready to have a fun-filled, informative day, reserve your spot now for our next workshop!
Class sizes are limited and payment is needed to reserve your spot. We take all major credit cards via our secure website, or you can call in your credit card number over the phone if you prefer.
Planning a friends night out, team outing, or party? Do you have 6 or more people? Send us quick message with the details. We can plan a special Chalk Paint® workshop party just for you and your group!