At Adjectives, our artists don't just collaborate with each other. We're constantly seeking inspiration from world-renowned experts and artists that we admire. One of our favorites is Annie Sloan, a British artist and designer who essentially re-created the world of furniture refinishing in 1990 with her creation of her own brand of decorative paint, Chalk Paint®.
A Color and Paint Expert
In the creative world of Annie Sloan, imaginations run wild and free. Annie and her philosophy share common core values with our artists here at Adjectives – inspiration, individualism and innovation. These core values show in her products and her brand. She's constantly devising new ways to empower interior designers and home hobbyists to reinvent their living spaces.
Annie is a color and paint expert. In addition to Chalk Paint®, she has developed a unique line of products to inspire the artist inside each and every one of us. She's also got brushes, waxes and finishes, stencils, fabrics, accessories, and she's written books and produced videos! Can you say, endless possibilities?
Annie's signature product, the one and only Chalk Paint®, has single-handedly given Pinterest a reason to exist, and it's definitely one of the coolest products we have on our shelves at Adjectives.
This isn't just regular old house paint. It's not something you'll find sitting on the shelf at the hardware store. And it's not for making everything into a chalk board -although you can certainly do that if you want! No, there is nothing quite like Chalk Paint® on the market now.
It adds just the right charm to almost any home project. The best way to describe it is in opposites. It's soft and bold at the same time. Old and new. Timeless. Pieces painted with Chalk Paint® provide a distinct look, yet fit right into any home or any style.
Using words to describe it doesn't do it justice. Heck, even great photos don't quite do it. Words and images just can't quite express the colors and the textures that come to life when you use Chalk Paint®~ You just have to see it for yourself!
Annie Sloan Chalk Paint® Stockists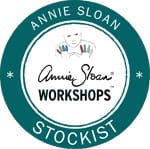 Annie Sloan paints and products are only available at handpicked stores (like Adjectives) that are chosen for their unique individual style. We are called "Stockists", and that title doesn't come easily. Annie has done a remarkable job of keeping her passions and core values at the heart of her products and her business. She only works with a handcrafted network of small businesses who passionately believe in her brand and products!
As the exclusive seller of Annie Sloan products, including Chalk Paint®, in the Central Florida area, we pride ourselves on sharing the threads of inspiration, innovation and individualism with you, our beloved community!  If you are at all curious about this unique line of paint, call or come in to talk to us! Receive up-to-date practical advice about painting furniture and using color from an authorized Stockist. And let your imagination run wild in the colorful, creative world of Annie Sloan.
Many of our associates at Adjectives have been trained and certified in the Annie Sloan Method of painting and we offer fun workshops every single month, including options for bringing and painting your own piece! Now you have no excuse not to learn Annie's inspiring techniques for painting furniture, fabric and much more!
Annie Sloan has created one of the most unique products on the home owners shelves today. Her passion for teaching and inspiring the artist within all of us has given us a reason to fall in love with her here at Adjectives and we want you to fall in love with her too.
More Annie Sloan
Stay connected with Annie Sloan and Chalk Paint® on her YouTube channel where she demonstrates techniques and practical tips in her high quality video series. Don't miss her unending inspiration on Pinterest too! Then come in to Adjectives and get your own supply of Annie Sloan's world-famous Chalk Paint®, in our stores in Altamonte Springs, Winter Park, and Winter Garden, Florida.